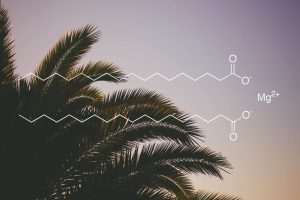 DRONANIA Granules, tablets and capsules contain professionally different amounts of magnesium stearate (= magnesium salt of stearic acid) to increase the flowability of the powder mixtures. For the production of this raw material, fats and oils of animal as well as vegetable origin (soybean, rapeseed, maize germ and palm oil) were and are used.
Due to the ecological damage caused, industrial palm oil and products derived therefrom are in public criticism also due to the risk of sustainably damaging the global ecosystem, e.g. by clearing rainforests and using the land thus obtained for palm plantations and the corresponding oil production.
As a specialist in the production of herbal products, DRONANIA is committed to the importance of sustainability as well as ecological and ethical aspects in the synthesis or production of excipients. Therefore, starting December 2017, only magnesium stearate Ph. Eur. Quality will be processed which is demonstrably not made from palm oil. However, on special request, we can also use RSPO-certified palm-oil magnesium stearate. This concept is implemented free of charge for existing formulations and new product developments.